Jason the Juggernaut
By Timothy Caraway
Jason wished he could rediscover the wonder of being young again, where they seem to travel into a world of make believe. That wish unexpectedly came true in scientific accident, which opened up a rift into another world and sucked him into it. Not only did it reduced his age to that of ten year old boy, he now had to survive in a strange environment, where the legends and myths of his home world were reality in this other world.
With his memories and experience intact, Jason rose to the challenge, but never lost focus trying to return to his wife and children. A world darkened by magic and false gods needed a hero - not just any hero, but one who could bring the light of the Creator. With his Christianity put to the test, Jason became the most unlikely missionary to show God's love to a world which had forgotten him. Jason became The Juggernaut, showing God's unstoppable light.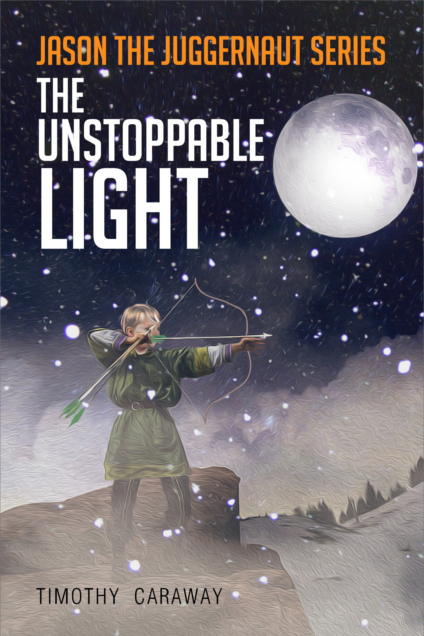 Click on picture to purchase.
Reviews from Amazon.com

What an incredible book! We read it out loud as a family and could hardly put it down. The author has created a compelling world that we can't wait to explore more. We loved the main character, he is a Christian and faces complex tests of his faith and moral dilemmas that are problems we all face. He faces adventure after adventure and each one is fun to read with many twists and surprises. Can't wait to hear more from this author!
I had no idea what to expect when I started this book but within the first few pages, I knew I had found a winner! I never buy a book under 300 pages, so was pleased when I saw this was just under 500 pages long. When I got to the end last night, I was glad to see it would continue with a second book in the series.

As a Christian, I find myself excited and revived in spirit and ready to stand fearless before my own battles ~ with the Creator at my side!
Very good. Keeps interest high.
Don't miss this one!

                                               By Kathy Musick on June 17, 2015
Format: Paperback
Exciting and compelling! Each chapter is a cliffhanger. If you're able to put it down you will keep thinking about it until you can pick it up again! As a teacher I'm going to be telling all my students about this book!I can't wait to get the 2nd book "Revenge of Skelleros"! Timothy Caraway is an amazing author. I just kept thinking,"How did he think of all this?" Obviously, he has had many experiences in Alaska and his life of adventure that he draws from! The author continually reminds me that God is my supernatural protector and I am included in the story He is writing about my life!